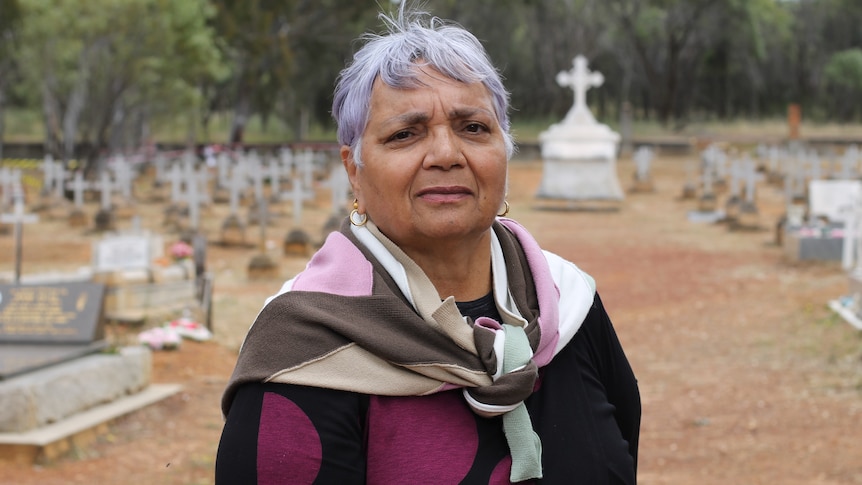 The waves of history continue to roll at the door of the last remaining monks in a small historic town in Western Australia.
Aboriginal and Torres Strait Islander readers are advised that this article contains images of deceased persons.
In recent years, the Benedictine monks of New Norcia, 130 kilometers north of Perth, have been rocked by shocking allegations of historic child sexual abuse by a number of their predecessors involved in running schools in the city. for Aboriginal children.
Now, new questions are emerging from the elders of Noongar and surviving members of the Stolen Generation, who ask what happened to the "children who never came back" and where they are buried.
It is estimated that over 2,000 Indigenous children passed through New Norcia Mission schools from the 1860s through the early 1970s.
This week, New Norcia Monastery told ABC that 275 Aboriginal children, under the age of 18, were on its burial register dating back to 1851.
It is not known what they died of, but diseases like measles and bronchitis are said to have decimated the mission's population in the late 1800s.
Anonymous graves could be children
Ballardong-Noongar's wife Dallas Phillips, who attended St Joseph's Girls' Institution, is urging community leaders to identify who is buried in a number of unnamed graves in the city cemetery.
Ms Phillips believes it could be children's graves and wants the monks to publish the documents they have.
"My mother's mother used to say that there are a lot of children who never came back from [the] mission, "Ms. Phillips said.
"I would like the graves to be maintained, with appropriate signs.
"Find out what they died of, how they died, when they died.
"Let's help them, they deserve respect and recognition. "
The small cemetery sits in the heart of New Norcia, Australia's only monastic city and one of Washington State's oldest tourist attractions.
Amid dozens of monk tombstones, there are simple white crosses scattered throughout the cemetery and a large area of ​​rugged terrain that appears to contain an unknown number of unmarked graves.
Advocacy to Pope Francis
Ms Phillips has written to WA Premier Mark McGowan, the Benedictine community and Pope Francis about her concerns, demanding that the children's graves be investigated.
She is supported by Jim Morrison of the West Australian Stolen Generations Aboriginal Corporation.
Mr Morrison said that, according to oral history, there were other possible burial sites in the town that needed to be investigated, possibly using technology similar to that used to uncover the remains of children in Indigenous schools in Canada.
"If there is any suspicion of bodies there, yes why not as part of the repatriation / repair, we get the scientific evidence to identify where the bodies are and how many," Mr Morrison said.
Mr Morrison said that since many First Nations children in the 20th century were taken from their families by government policies, the government of Western Australia had a potential role to play in funding research. .
There are only seven Benedictine monks left in New Norcia.
None of them are involved in the historic abuse allegations and none have been implicated in the management of indigenous schools by their predecessors.
Monks plan improvements to the cemetery
The abbot, Father John Herbert, declined to be questioned at the graves but agreed to answer questions by email.
When asked if the community would oppose the proposed search for the anonymous graves, Father Herbert replied:
"We have no objection to any reasonable measure which might assist in the recognition of the deceased, provided that they respect the various cultural sensitivities and practical issues involved as appropriate."
Father Herbert said the monks have done "extensive research" of the cemetery over the past decade and are preparing to put up maps and lists (of the deceased) at its entrance, hopefully by the end. of this year.
He shared a list of 328 graves in the cemetery and identified most of them, but only a few appear to belong to children.
About fifty of them are marked "unknown".
When asked where he thought the 275 children on the New Norcia burial register were buried, he replied: "Some are buried in New Norcia, others in the native colony of Moore River (at 70 kilometers) and others are unknown. "
Father Herbert said the second stage of the cemetery project would involve the installation of "interpretive material regarding the anonymous graves" which in many cases were not marked because it was the custom of the community. native at the time of burials.
He said he believed they belonged to adults because of the appearance of the graves.
Former detective thinks graves are children's graves
But Peter Fox, a retired chief detective inspector from New South Wales who helped lobby the Royal Commission on Institutional Responses to Child Sex Abuse, disagrees.
He visited New Norcia with Dallas Phillips and others in late 2019 and estimates there may be as many as 50 unmarked graves in the cemetery that could contain the remains of children.
"One quarter of the cemetery could still be seen the graves of what appeared to be short graves, presumably children, but none of them had markers," Fox said.
"There was no cross, no gravestone, no formality of any kind other than what you could discern through the different surfaces of the ground where the burials had taken place.
"And I just felt it was awfully sad."
Historical records consulted by Perth historians Neville Green and Lois Tilbrook for their book "Aborigines of New Norcia 1845-1914" show the population of New Norcia during this period, as well as all of Southwestern State of Washington. was devastated by measles outbreaks.
But very little seems to have been written about the next chapter of the mission from 1914 onwards.
Father Herbert said the only other tomb known to the monks was under the chancel of the town's abbey church.
According to monastery's records, the burial site was discovered during construction work in 1871, when workers found the empty coffin of an 11-year-old boy who died in 1855.
His remains were then re-buried with those of his father.
"It's been going on for too long"
Ms Phillips would like to see as many of the remains discovered and identified as possible.
It also demands full disclosure of New Norcia's records of Indigenous children buried in the city, including whether their parents and other authorities have been notified of their deaths.
Ms Phillips has called for the remains to be repatriated to their traditional lands if families request it.
"They must be brought back to their country at the expense of the Benedictines with the help of [WA] government, "she said.
"We're sick of talking, we need action now, it's been going on for too long."