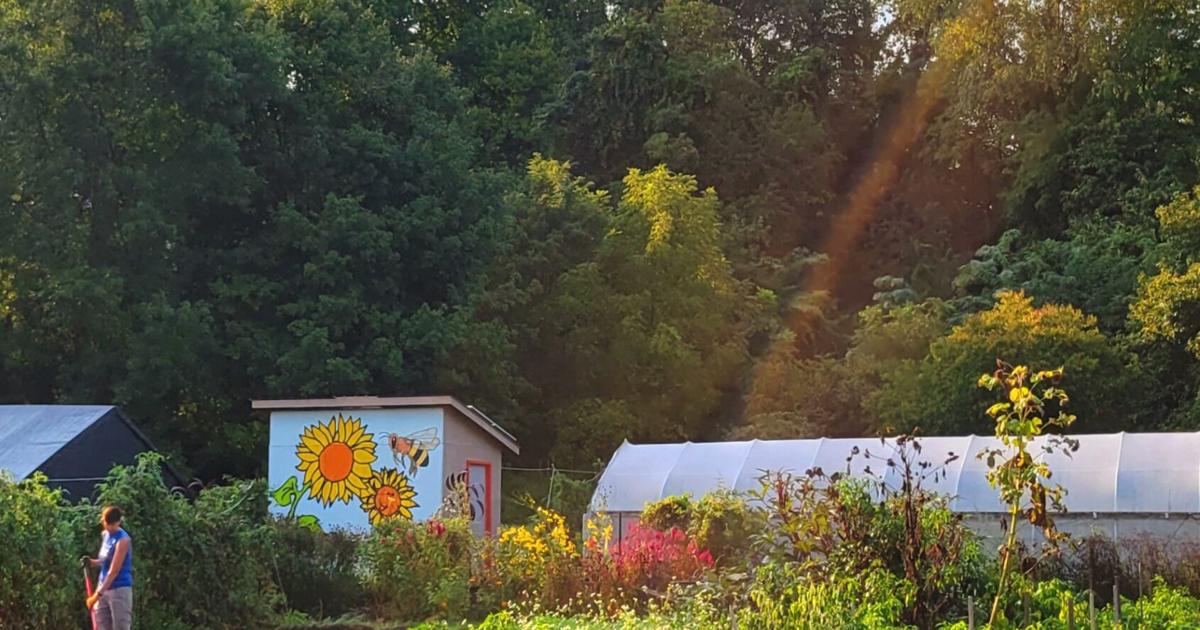 When Berea Tourism coach specialist Ethan Cima welcomes a busload of visitors to town, they usually want to see working artisans or dine at local restaurants like the historic Boone Tavern Inn.
So Cima was slightly surprised last August when a tour group from South Dakota wanted to see what Berea had to offer in agricultural tourism. With a recommendation from Berea College's Grow Appalachia, Cima directed visitors to Berea Urban Farm (BUF) on Adams Street, followed by a tavern lunch that featured farm-to-table fare on the menu.
About 13 members of the South Dakota Agricultural and Rural Leadership Program experienced Sustainable Berea's 1.4-acre farm and learning center, commonly known as BUF, and got a taste of how the farm brings the community together through food, teaching the finer points of urban agriculture, soil conservation, beekeeping and many other skills while allowing residents to connect with each other and to their environment through the growth of healthy foods, flowers, grasses and trees.
Foreign visitors seemed duly impressed.
"I think this group had a great time learning more about how the Berea Urban Farm is helping to make Berea Town more self-sufficient. They had lunch at the Boone Tavern Inn, which was wonderful as it completed a complete farm-to-table experience," Cima said. "It helps farm groups brainstorm new ideas and possibilities for their own communities back home."
Cima said the development has led to the idea of ​​creating specifically tailored tours, whether for those interested in antiquing, urban farming or other pursuits.
"It's something we wanted to start," Cima said of the farm tours. "It shows a side of Berea that we don't always see, and it's something I hope to start next year."
Berea's urban farming has attracted increasing numbers of visitors in recent years, according to Richard and Cheyenne Olson, founders of Sustainable Berea and Berea Urban Farm.
"People go on the web and they type in sustainable living — top cities, urban farming, gardening — and then they focus on our Facebook page or Berea Urban Farm or Sustainable Berea," Cheyenne Olson said. "They come here and say, 'We're thinking of moving here because we like what we see. It looks like a good place to be with good food.'"
BUF has attracted visitors from across the country, and interest in urban agriculture has grown in the wake of the pandemic, when disruptions to the food distribution system raised awareness of the value of locally grown food.
Richard Olson added that the water shortages in the western United States have also served as a reminder to reflect that the food supply chain is not as reliable as previously thought.
"More and more people see it as a vital choice, and it goes beyond just a hobby to really matter as food prices rise and the fragility of the global food system becomes increasingly apparent," said Richard, adding these developments may also boost the prospects for agricultural tourism in Berea.
"I think what will really make agritourism work is the fact that there are so many other places of interest, such as the college gardens and farm, Garden in the Glade and restaurants farm-to-table like Native Bagel," added Olson.
Berea Mayor Bruce Fraley agrees that there are many other local assets that could attract visitor interest, including the Berea Farmer's Market, the second oldest such market in Kentucky.
Berea Tourism recently funded the effort to provide the market with a permanent and highly visible home at the Chestnut Street Pavilion. Fraley also noted Berea College's longstanding contribution to agriculture.
"Berea has a long history of sustainable agriculture, and Berea College alone is a destination for many tourists, and to highlight the Berea College Farm, the Berea College Farm Store, and the commitment of the Berea College in support of sustainable agriculture is something the city and the university could work together," Fraley said.
The mayor added that he wouldn't be surprised if AppHarvest, designed to be an indoor grower of eco-friendly leafy greens, eventually becomes a destination for those interested in Kentucky agriculture.
With all of these sites, Fraley said the city is well positioned to add agricultural tourism to its offerings, but it can also be central to a broader regional appeal for visitors visiting central Kentucky.
"I think there is a future in agricultural tourism, and if there is demand, we have the assets to meet that demand and bring people to our community and Madison County as a whole. It's in our interest to do so," Fraley said.