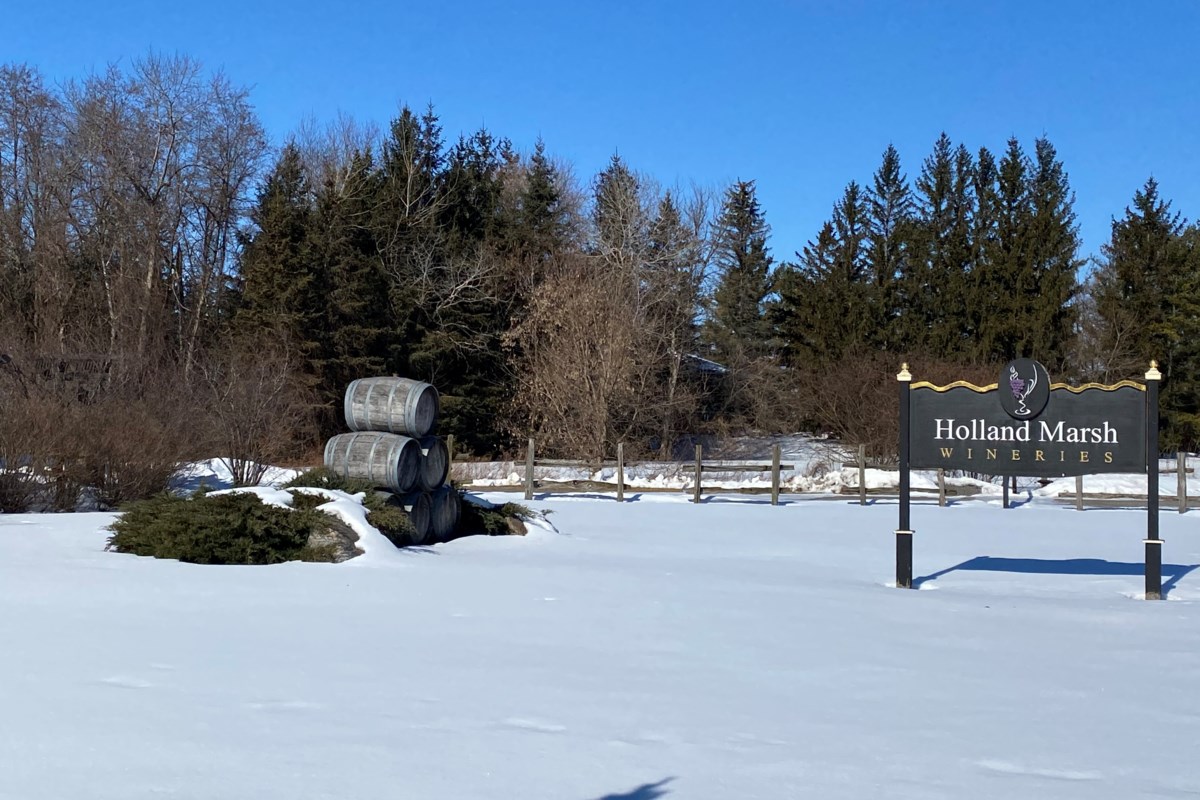 Deep in Holland Marsh, nestled behind a forest of trees, Holland Marsh Wineries offers tours and tastings, and hosts special events.
Holland Marsh Wineries was founded by King Township resident Roland Nersisyan, which he runs alongside his two sons, Norie and Narek.
It was Roland's idea to open the winery, who learned to make wine with his grandfather in Aremina.
After graduating in commerce, eldest son Norie earned his certificates in winemaking and cider making. He joined his father in business as head winemaker.
After earning his business and computer degrees, his youngest son Narek worked internationally for numerous wine and spirits companies, before making the decision to return home and work in the family business, s handling all sales and marketing.
It wasn't until 2007 that the first block of grapes was planted in the vineyard, with the cellar doors officially opening in 2010. In 2011, their clubhouse was built to host weddings and parties. special events.
The clubhouse is where weddings and special events are held. The rustic-chic barn room with floor-to-ceiling patio doors is made of pine sourced from Innisfil and can accommodate up to 200 people.
In 2012 they planted their second block of grapes, expanding the vineyard to 11 acres.
Over the years, the estate has won numerous awards, including one from the All Canadian Wine Competition where it received gold for its Reserve Merlot 2016.
"I think every winery has something unique to offer," Narek said.
He says it's the sandy, clay and loam soil of Holland Marsh that gives the wine a taste that stands out from other Ontario wines.
"It's very, very unique for growing vines and it works," Narek said.
Narek says the winery is "old school" with its approach to winemaking.
"But everything we do is state-of-the-art," he said, noting that all the equipment used to make the wine comes from Europe.
The stainless steel vats come from Italy and Germany, and the press, which separates the juice from the pips, comes from Slovenia. The oak barrels where the wine is stored come from Bulgaria, Hungary and Armenia.
Narek says it's the oak barrels that help create the creamy, spicy and rich flavor of the wine.
The winery sells a wide selection of white and red wines, including their best reserved class wines.
Reserved wines are only released in years when Ontario has a good growing season, which means higher than normal temperatures, no spring frosts and a dry fall. The following years are considered "reserve years": 2020, 2016, 2014, 2012, 2010 and 2007.
The winery's award-winning wines can be tasted and purchased from their shop at the front of the winery. Their wines are made in small batches so the public can buy them directly from the store or sample them at local restaurants.
"We don't overproduce, we value quality over quantity," Narek said. "It's a labor of love."
The winery often brings specialty items from other local makers and producers to sell in their shop, such as chocolates, jams, and meats.
"We're pretty much a hub for locals," Narek said.
The winery welcomes around 4,000 people a year and hosts around 80 to 100 events.
"We see people from all parts of the province," Narek said, noting that there are many stopping over en route to cottage country.
Like many businesses in the food, beverage and entertainment industry, the pandemic has had an effect on the event side of the wine business. However, they have seen an increase in wine sales, offering free shipping for online orders in Ontario.
The winery recently created a Wine Club, where each quarter members receive a basket of treats, including specialty wine, charcuterie pairings, tastings, a tour and in-store discounts. When the membership was first launched there were only around seven members, now Narek says there are over 100.
Narek says there are exciting projects coming up for the winery, including adding a hot stove oven for freshly baked pizzas, and they plan to expand the vineyards by another five acres.
The logo of the Holland Marsh winery is a sun, which represents the history of the Nersisyan family. They believe that the sun is synonymous with warmth and good energy, which is necessary for the growth of all things. It also represents the circle of life. The family believes that what you put into this land is what you get back.
The estate is open six days a week, Tuesday to Sunday: 9:30 a.m. to 5 p.m.
Pre-booking is required for a tour which can be taken online, but walk-in tours are welcome for shopping.
To learn more, visit their website here.