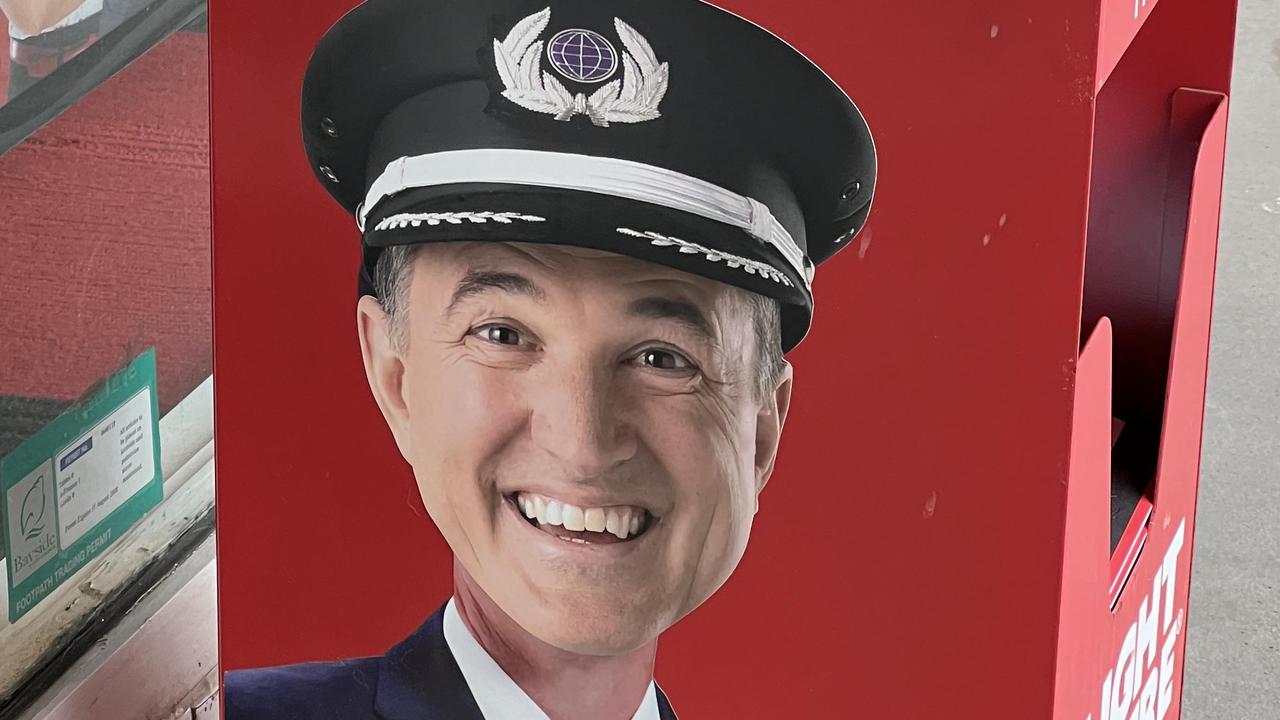 Social media users have mocked a Flight Center sign speculating something went wrong, but it turns out there's a clever reason for the odd image.
Flight Center was mercilessly mocked for a panel depicting a pilot with a huge head attached to a normal body.
The travel agency's original ad features senior employee Tom Walley wearing a pilot's uniform – but his head appears totally out of proportion to his body.
Although the promotional image has been around for about a year, it popped up as a topic of discussion on Reddit this week.
Amused social media users shared all sorts of theories about how the image would look, from a graphic design error to stickers stuck on existing signage.
Dozens of people joked that the image reminded them family guy cartoon character Glenn Quagmire.
"It's done on purpose. Now it's being streamed for free on social media," one wrote.
"Completely intentional. FREE advertising by the people who share it on social networks. Clever."
Others speculated that the reasoning was more complex," another agreed.
"The contract expired with the guy whose head was used before. They didn't renew the contract and instead stuck a sticker of the general manager's head instead," one person said.
Another Reddit user claimed to work for the company when the signs were rolled out in stores.
"About a year ago they replaced 'The Captain' with one of the more senior guys in the company 'Walley'," they said.
"I think it's easier to pay him a bounty rather than keep paying an actor to fill the role. At this point it would certainly be easier to put a sticker on the stand rather than redo the stands for each store.
The travel company shut down the rumors on Tuesday, revealing the clever reason behind the intentional "bobblehead" image.
A Flight Center spokesperson explained that employees also referred to the image as "bobblehead Tom."
"A big-headed captain means he knows more about airfare and business than anyone else," the spokesperson joked, adding that it was fun and profitable.
"Covid gave us the opportunity to refresh the brand in a unique way when we didn't have the money to spend."
Early last year, Mr. Walley, a longtime executive, was chosen to be the Flight Center brand's 'senior captain', to feature in promotional material alongside a crew of co-captains, who are also real employees.
The brand slogan was also changed from "Best in the air, andwhere" to the new "Discover our experience".
In February this year, Flight Center Travel Group announced that Mr Walley had been promoted to global managing director of its specialized Corporate Traveler division, having served as managing director of the Australia division.