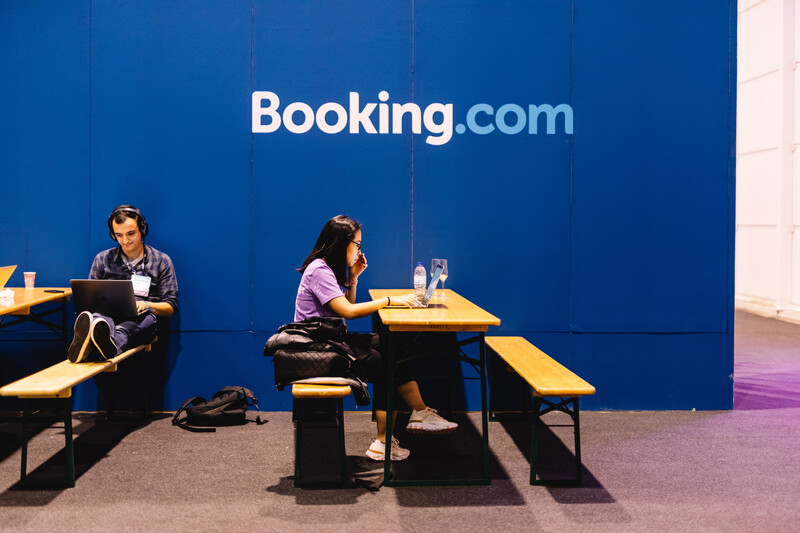 Israel and its supporters are swear to wage a "diplomatic war" against the online travel agency Booking.com over its plan to add a travel warning to its lists of destinations in Israeli settlements in the occupied West Bank.
There are still uncertainties about the exact wording that so enraged Israeli Tourism Minister Yoel Razvozov.
But whatever the wording, it does nothing to satisfy Palestinian demands that the settlements be removed from the website's listings entirely.
The Dutch agency will continue to profit from war crimes by maintaining settlement accommodations and attractions.
"Companies like Booking.com must stop operating or promoting visits to illegal Israeli settlements," PACBI, the Palestinian Campaign for the Academic and Cultural Boycott of Israel, said.
The steering group of the international boycott, divestment and sanctions movement, the BNC, welcomed Booking.com's decision, but said it was not enough.
"Despite the significance of this symbolic step, we call on Booking.com to uphold its moral and legal duty to stop facilitating all rentals in illegal Israeli settlements," the BNC said. said.
"By continuing to rent properties built on stolen Palestinian land, including in occupied East Jerusalem, Booking.com is profiting from Israel's apartheid war crimes and supporting its relentless ethnic cleansing of indigenous Palestinians."
All Israeli settlements in the occupied West Bank, which includes East Jerusalem, and the Syrian Golan Heights are considered a war crime under international law.
Moreover, by building settlements, Israel perpetuates human rights violations against the occupied Palestinian population, including house demolitions, forced displacements and land theft.
By offering travel services to these settlements, Booking.com is profiting from and effectively promoting these crimes.
Although the warning has yet to be added, Israel and its supporters are angry at Booking.com's decision and insist the country is being singled out.
"Isn't there human rights abuse elsewhere?" Israeli journalist Zvika Klein said.
"Israel is the only country that will have such a warning."
StopAntisemitism.org, an organization that claims to fight anti-Semitism but primarily defames critics of Israel and its racist state ideology, Zionism, declared that "we are once again witnessing the isolation of the only Jewish nation in the world as the travel booking site Booking.com has issued a warning label for travelers to certain parts of Israel", casually sweeping the West Bank as Israeli territory.
"No other country in the Middle East carries such a warning."
Some countries, including Syria and Iran, are completely absent from Booking.com. The website also does not list Cuba.
Additionally, online booking companies have made bolder political statements regarding boycott calls. And that includes Booking.com.
While Booking.com refused to remove listings of accommodations located in settlements illegally built on stolen Palestinian land, it quickly took anti-Russian action following the invasion of Ukraine.
In March, Booking.com and the online rental agency Airbnb deleted all Russian accommodations and attractions from their platforms.
When trying to search for reservations anywhere in Russia, Booking.com informs that "it is not possible to make a reservation for this region through Booking.com at the moment".
When booking Ukrainian accommodation, the website urges customers "to make a donation to support the humanitarian response to the war in Ukraine".
Similarly, there are no listings in Russia on Airbnb.
In 2019, the Israel lobby successfully bullied Airbnb into reversing its decision to remove around 100 Israeli settlements from its website.
When the decision was announced, the San Francisco-based company received threats and lawsuits.
Consequently, he reconsidered his decision and said he has "settled all lawsuits" brought against him by hosts, potential hosts and guests.
In a statement, Airbnb said it would not remove listings from the West Bank, but it would not take advantage of them either. Instead, he promised to donate all proceeds to humanitarian organizations.
In the case of Ukraine and Palestine, the hypocrisy has been blatant from the start.
Russia was immediately barred from sporting, business and cultural spheres, while Palestinians have seen teams, businesses and artists cross the boycott picket line many times over the years.
Boycotting a country that has violated international law has become justifiable and even a moral duty, but apparently only if it is consistent with US interests and sanctions policy.
Key words