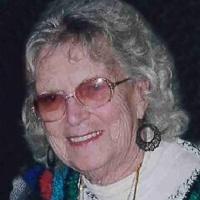 Dolly Bryan, 97, of Reamstown, formerly of Doylestown, passed away peacefully on Monday, June 6, 2022, at her home. Born in Philadelphia, she was the daughter of the late James & Ellen (Mahaney) Blackmore and beloved wife of Floyd W. Bryan until his death in 2002.
Dolly was a graduate of Little Flower Catholic High School for Girls, class of 1943. For more than 20 years, she was the general manager of the travel agency office Keystone Triple A. Her love of God and family was evident to everyone who knew her. She was a devout member of DPI Church in Ephrata where she regularly attended Mass. Dolly has felt so blessed to live close to her family, which has allowed them to spend so much quality time together, including many treasured memories with her 17 grandchildren. Never to be missed, she always looked forward to trips to her daughter Kathi's house, Eagles Nest events, celebrations and visits from her loving family. Dolly's unwavering dedication and love will be sorely missed.
Dolly is survived by four children, Kathleen Murphy (Ken) of Pennsburg, MariaElena Horn (Tom) of Reamstown, Dustin Bryan (Karen) of Denver and Maureen Oniskey of Ephrata; 17 grandchildren; 29 great-grandchildren; and a son-in-law, Mel Bevan of Reinholds. In addition to her husband, Dolly is predeceased by a daughter, Bonnie Bevan; son-in-law, Jude Oniskey; a brother, James Blackmore and a sister, Ellen Ott.
A visitation will be held Tuesday, June 14 from 10-11 a.m. at DPI Church, 330 Church Ave., Ephrata, PA, followed by funeral mass at 11 a.m. Interment will take place the following day, Wednesday June 15 at 11 a.m. at Our Lady of Czestochowa Shrine National Cemetery, Doylestown.
In lieu of flowers, memorial contributions may be made to DPI Church, 330 Church Avenue, Ephrata, PA 17522. www.goodfuneral.com