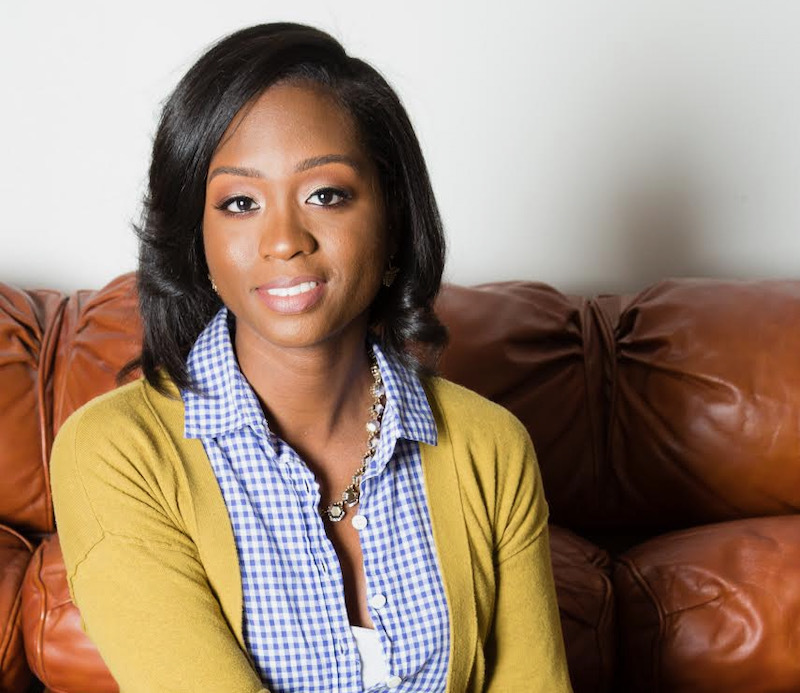 Whether she's planning community events like Battle of the Chefs or working towards equity and inclusion of more Milwaukeeans, Samantha Mitchell never loses sight of what makes her feel so deeply rooted and in peace.
"I Make free time, "she told me during a recent meeting at the Milwaukee Public Market. "Taking care of yourself is very important to me.
And Mitchell's energy reflects her commitment to community, to causes that matter, and to herself – all at the same time. She is inspired and articulate, but also calming and kind.
Professionally, Mitchell has over 10 years of experience in marketing and community relations. She works as the Engagement Lead for Diversity, Equity and Inclusion initiatives at United Way of Greater Milwaukee and Waukesha County, where she leads efforts to promote equity and inclusion. , while engaging a diverse and large pool of donors.
Mitchell is also the owner and CEO of SamanthaStarr Events, sits on several boards and committees that support youth development, the arts, and LGBTQ + communities, and holds a bachelor's degree in public relations from Columbia College Chicago.
Personally, she is easy going and fun to be around. She enjoys traveling, music, spending time with her grandmother and good beer.
Dive into some of our recent convo on a sunny Tuesday afternoon:
Where were you born and raised?
I was born and raised in Milwaukee. I lived on the North Side, the East Side and eventually we settled in Glendale. I went to Glen Hills Middle School and graduated from Nicolet High School in 2005.
How was your experience at Lycée Nicolet?
It was good. I really enjoyed my stay in Nicolet. Honestly, being able to plan the black history program while I was there sparked my love for event planning. Come to think of it, I've been organizing events since I was 16.
Where did you go to college?
I went to Columbia College in Chicago. I was majoring in public relations with a concentration in marketing. I was a member of the Public Relations Student Society, the American Advertising Federation Student Club, and vice president of the Columbia College Marketing Association. I was also a member of a few dance groups so you can tell I had the full art school experience. The good thing about Columbia is that it allowed me to grow so much over those four years. There were always opportunities to plan and execute visions and we were really encouraged as students to hone our creativity.
How did you specifically change while you were at Columbia?
It made me mature very quickly. I lived in downtown Chicago in an apartment, so I had a "real life". I went shopping and did all the things in town. I learned so much about networking, how to be a bridge builder, and relationships in general.
What brought you back to Milwaukee after college?
I graduated in 2009, during the recession, and tried looking for a full-time PR position for a few years, but couldn't get a permanent position. My mom suggested that I come back and regroup, telling me that I could always go back to Chicago. I came back with a revenge and a plan, but being back home allowed me to reconnect with Milwaukee as an adult. I worked at Journal, then at Guaranty Bank, and in 2015 I decided to start my own event organization SamanthaStarr Events.
You also have a full-time day job, don't you?
I do. I am responsible for the engagement of diversity, equity and inclusion initiatives at United Way of Greater Milwaukee & Waukesha County.
So basically you have two full-time jobs: your event organization business and a professional role with Centraide?
Well if you ask someone who knows me they will tell you I have six jobs. In addition to my full time roles, I am also a personal wine consultant, Uber and Lyft driver and also just completed a real estate course so I plan to dive into this area soon as well.
Which event are you most proud of?
Battle of the Chiefs! I'm celebrating my fifth year! This year it will be a food truck event and will take place at La Table du Chef on August 29 instead of the usual October date. It's such a fun community event that connects my passion for food, diversity and inclusion. It's also a fundraiser for a different charity every two years. This year the recipient is Teens Grow Greens and I am so excited to be associated with them.
What do you like to do when you are not working? Do you have free time?
I have free time! Taking care of yourself is very important to me. I love to cook and travel. I just returned from North Carolina and Las Vegas. This fall I will be launching my international travel game and going to the Dominican Republic and Aruba. I also enjoy listening to music, spending time with my family and taking scenic walks from time to time.
Where do you live these days?
I live on the north side in my grandmother's duplex. She lives downstairs and I lives upstairs. It feels good to be so close to your family and in a neighborhood that is familiar to me.
So, are you your grandmother's babysitter?
Oh no. Not at all. I must prevent him from ruling my life! She is completely independent. I really like living near her. She just celebrated a birthday and I won't say her age, but she's really young at heart. Firecracker.
What would you like to see changed in Milwaukee?
I don't even know where to start. When you live in '216 (53216) you see how great Milwaukee is not for everyone. Most of the work I do every day revolves around jobs. How do we advocate and reduce the barriers that prevent people from getting a job? How do you make people want to work and how do you get them a sustainable job for a family? There are so many roadblocks. No matter what a person wants to do – go to college, learn a new trade like carpentry, etc., they have to figure out how to make it work while they are in school and learning. or in internship for free, when she does not. have generational wealth to fall back on.
What do you like about Milwaukee?
I love the Milwaukee summer. Obviously things were different last year, but we're slowly getting back to normal. I love festivals: Summerfest, Brady Street, Pride Fest. You name it and I'm here. I also love the food and drink scene here. I like to try new restaurants and meet people to eat and chat. Oh and I love a good beer.
You seem to have a very well balanced life.
I do. Physical and mental health is very important to me. I need to relax and unplug. I have chronic neck and back pain so I focus a lot on peace and meditation. I focus on staying positive and blocking out as much negativity as possible. Maintaining my personal care and enjoying the work I do allows me to enjoy life and truly reach out to be the best version of myself!