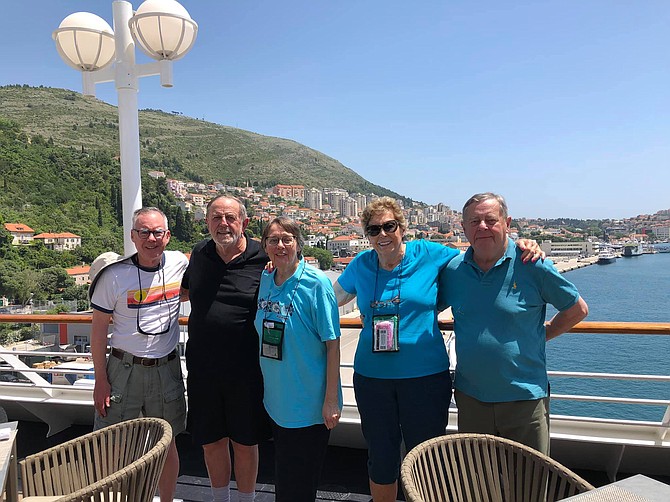 [ad_1]
Vinny and Brenda Donnelly, members since 2009, are enjoying a trip to Europe with their colleagues. Photo courtesy of Donnellys
Founded in 1964, the Shillelagh Travel Club moved around NOVA before moving to Vienna for the past 20 years. The club originally had its own plane that took members from all over the world on weekends. Over time, regular flights became cheaper and many travel clubs went bankrupt.
Despite this, the Shillelagh Travel Club has managed to stay afloat by selling its planes and using scheduled flights.
"In 1986 we sold the last plane and we evolved into a much smaller organization where we would do a little bit of everything," said travel consultant Trevor Major.
Marilyn Panagopoulos joined in 1965 and has traveled with them ever since. What attracted her to the club was the feeling of familiarity among the travelers.
"A friend of mine went and said, 'You are absolutely right. There are no strangers in the Shillelaghs, they just come to greet you. I don't think you found that in a commercial aircraft organization, but we had it, "Panagopoulos said.
"Trevor is wonderful, the whole group there doesn't feel like it's a business. They become like your family and take care of you, "said Member Dolly Dougherty.
In addition to the atmosphere, members appreciate the club for its convenience. Instead of focusing on the details and managing everything on their own, travelers can relax and focus on their trip.
"Once you leave your house and drive to Shillelagh's office, they take control of everything. You are free to have fun from this point on, "said Dougherty.
The decision to resume travel came with the wave of COVID-19 vaccines, creating a safer environment for traveling.
"Our clientele is mainly elderly people, so they have all been vaccinated and they call us and say, 'We want to start traveling again'. visit some Maryland wineries and have lunch. "
Several protocols will be kept in place to protect members, which has helped allay security concerns.
"Anyone traveling with us from the Vienna office must be vaccinated. Also, when they get on the bus and get on and off, they should wear masks, "Major said.
The Shillelagh Travel Club hopes these early trips will pave the way for larger overnight trips. Indeed, several international and national trips are planned for the years to come.
"Most of the travel for the remainder of this year will be domestic, which is to the United States. But next year we have a lot of activities planned for international travel, "Major said.
Regarding upcoming trips, members have been anticipating. Some, like Vinny and Brenda Donnelly, have already signed up for next year's plans.
"Our next one is in September – a mystery trip. In January we're going to Florida and signed up for a few things for next spring and summer, so we're very happy to have it all started again, "the Donnellys said.
[ad_2]