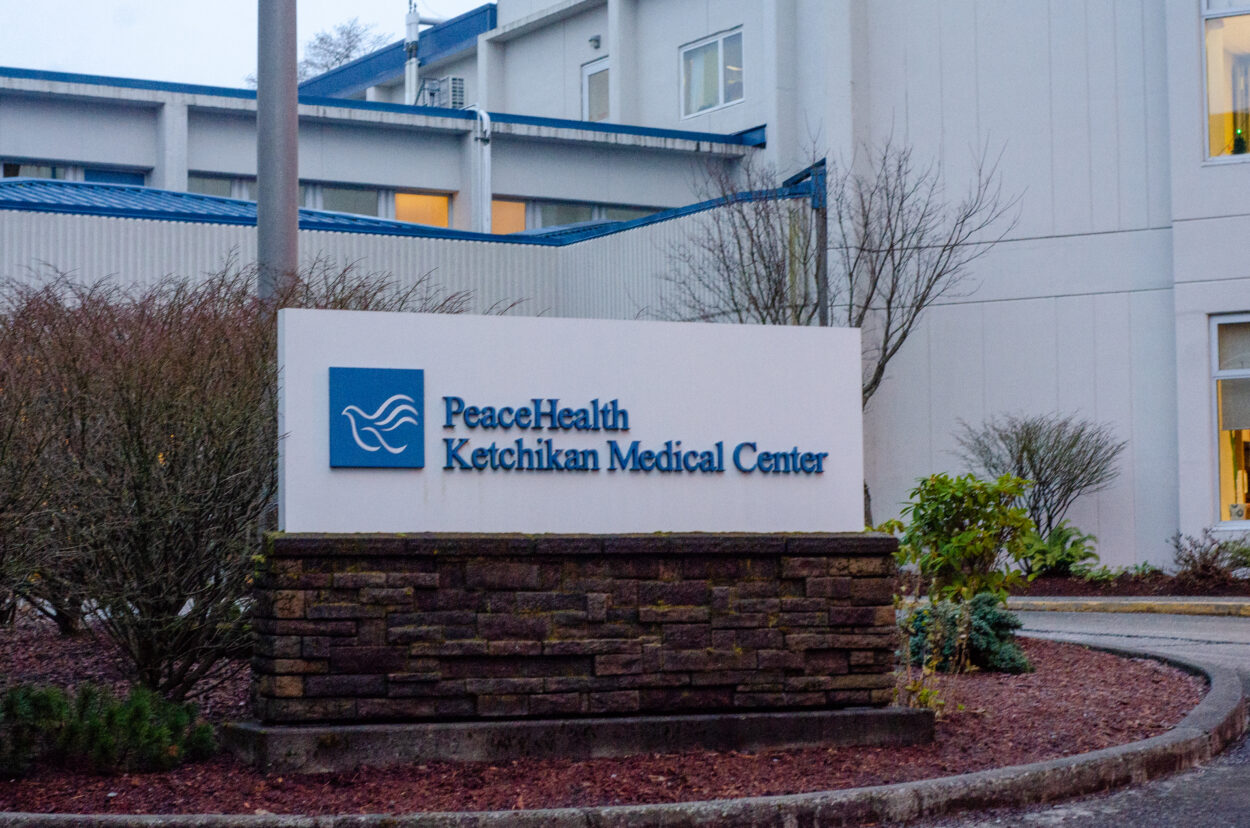 A traveling nurse says she was fired from PeaceHealth Ketchikan Medical Center for reporting concerns with workplace safety and patient care.
State and federal labor investigators are looking into complaints the hospital fought back at the nurse after she raised concerns that some COVID-19 patients were not being properly monitored.
Registered nurse Marian Weber arrived in Ketchikan from Louisiana in April. As a wave of COVID-19 cases hit the community in July and August, the city-owned hospital began taking in patients from long-term care facilities in the area. In an interview, Weber said some were seriously ill.
"We had a patient that was intubated, and we had one that required continuous BiPAP (a type of ventilator), and these are ICU level patients…" she said.
But Weber said they had not been placed in the intensive care unit – even though there were rooms available in the intensive care which she said were equipped to handle COVID-19 patients.
Instead, she said, they were placed with the rest of the hospital's COVID-19 patients in a section of the medico-surgical unit. And that was a problem, she said, because it meant critically ill patients could not be effectively monitored from outside their rooms.
"Usually in your intensive care units, the rooms are made up of glass doors that allow you to have visual surveillance," she said.
She said there is also a central monitoring system in the intensive care unit that allows caregivers to track patients' vital signs and sound alarms when something goes wrong.
But in the Ketchikan Medico-Surgical Unit, the room doors are opaque, making it difficult to see, and there is no ICU-level monitoring system, Weber said.
"So we had no way of effectively monitoring our patients at the required level," she said. "And anything can go wrong with these patients. "
Weber said PeaceHealth suggested placing a nurse in the room to monitor the patient.
"Inside the room with the COVID-19 patient undergoing aerosolized particle procedures for 12 hours," she said.
Weber said she feared it could be dangerous due to prolonged exposure to the coronavirus. She says she spoke to her manager about it. Then, the next day, she says she was asked to call a hospital administrator.
"And I did," she said. "And she said, 'I need you to understand the verbiage I'm about to use' – those are her words – 'and share it with your coworkers. You are not a staff member. You are guests here, and you can leave at any time. There is a long line of travelers waiting to pick up your work.
She said she was shocked.
"I asked her to move very carefully into our conversation as it seemed that when I expressed concerns about the safety of staff and patients, Sherry (Dunlay) would respond by threatening my position," she said. . "So when I explained this concern to her, she said, 'If you don't like her, you can go. ""
She said she filed an internal ethics complaint on the hospital's anonymous whistleblower line later today.
But four days later, on August 24, she was fired. It was a week after signing a four-month extension.
"If they're not happy with your job, they won't extend you, even when they're understaffed," she said. She said hospital officials recently thanked her for extending her contract during a "Caregivers Celebration Day" celebration.
Weber said it was difficult to see his dismissal as anything other than retaliation. And she's worried that this will make others less likely to report their concerns.
"When a system retaliates, as PeaceHealth Ketchikan did, against a nurse for expressing safety concerns, it creates a deterrent effect in that other nurses and healthcare workers do not will not express for fear of reprisals from the administration, "she said. "And that can result in damage or death to patients and / or staff. "
The state nurses union says employees should be able to raise safety concerns without fear of reprisal.
"Our working conditions are the conditions for our patients to heal. A risk to the safety of an employee is a risk to your safety or that of your loved ones, "Andrea Nutty, director of programs for the Nurses Association of Alaska, said in a statement.
PeaceHealth Ketchikan Medical Center declined to comment on Weber's concerns. In a prepared statement, a spokesperson said the hospital's protocol for caring for COVID-19 patients "has followed and continues to follow state and federal guidelines." The spokesperson said the safety of patients and caregivers remains the hospital's top priority and the hospital takes all reported concerns seriously.
Weber filed a complaint with state and federal workplace safety authorities about his termination. She asked the National Labor Relations Board to treat this case as a whistleblower. Both complaints are in the early stages of the process.